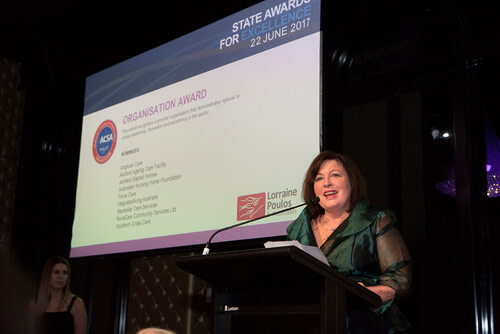 Online Training & Tailored Workshops
Lorraine Poulos and Associates has an excellent reputation for providing training which produces results. Whether it is a live public event or a tailored on-site session all sessions are accompanied by extensive resources.
Our Webinars and on-line training provide the opportunity for many staff to participate in contemporary learning. Lorraine and her team provide training to Board Members, Care Managers and Direct Care Workers across a range of topics.
Tell us more about your tailored training needs and we will contact you.
Get in Touch (Expression of Interest)
In addition to providing training on behalf of the peak bodies of aged care in Australia Lorraine can provide in house training on a variety of topics.
MATERIALS ARE NOW AVAILABLE TO PURCHASE ONLINE
Lorraine is also an accomplished and vibrant educator. She exudes a passion for learning and provides educational support and upskilling to all levels of staff working in the human service sectors.
The CMSA describes her style as " Harnessing her extensive experience and expertise Lorraine's delivery style is engaging respectful, stimulating, inclusive and challenging"
Each session has learning outcomes and objectives and participants with an action plan to ensure transfer of skills to the workplace. Many sessions can be delivered via laptops so that participants can do practical work in the training session. USBs are provided with extensive materials available.
Each session is recognised as Continuing Professional Development(CPD) hours as per the Case Management Society of Australia requirements.
Examples of training available:
Assessment skills
Case conferencing – how to organise and the necessary protocols
Care plans and goal setting
Risk Management
Continuous Quality Improvement
Clinical issues in aged care
Understanding Quality Reviews in Community Care – meeting the standards
Progress notes – documentation requirements
Report writing for external parties
Budgeting for Consumer Directed Care
Conversations with clients
Enabling models of care
How to assist clients in recognising and overcoming barriers
Good home visiting protocols
Medication management in the community
Professional behaviour in the workplace
Managing staff
Change management
Personal work inventory profiles
Values based practice
Marketing your service
Case management in residential aged care
Balancing risk and choice with Duty of Care
Day centre programming and re-ablement programs
Strategic planning and management support
Understanding financial requirements for organisations and individual budgets
Tips for Tender Writing
Facilitation services
Whether you require facilitation for your team or an event Lorraine and her team can assist.
Listed below are just some of the work Lorraine has undertaken:
Lorraine has facilitated the following conferences and seminars:
Southern Cross Care NSW ACT – 2014 Leadership conference
UPA NSW Board and Governance Workshops 2014 -2015
Quality Agency development program 2014
Community Options Australia workshops – case management, marketing and documentation 2014
Catholic Health Care leadership conference 2014
Anglicare NSW consumer consultations 2014
LASA Consumer Directed Care Seminar Melbourne– July 2013 attended by over 250 delegates
Holroyd Council conference 2014
Kimberly Clark national seminars- Perth, Sydney, Adelaide, Brisbane and Melbourne – attended by over 500 delegates – July-August 2013
Enabling for CALD communities – Redfern Town Hall on behalf of Inner Sydney HACC Forum 2013
Bankstown City Transport Community Consultation ( Megan Stoyles on behalf of LPA) 2013
CDC Budgeting NSW, SA, WA, Tas and Qld. 2013
Conference presentations:
Aged and Community Services NSW, Qld Financial Management Conferences 2014
LASA residential and community seminars 2012-2013
Keynote Speaker for Uniting Care Ageing Inspired Care Awards 2013
Criterion CDC Conference Sydney September 2013
Keynote speaker – Case Management Society of Australia Conference 2012
Lorraine's states – "I see that my style of Facilitation focuses on HOW people participate in the process of learning or planning. It must be fun, interactive and thought provoking. Organisation and adherence to times are key ingredients for a successful event."